Our Design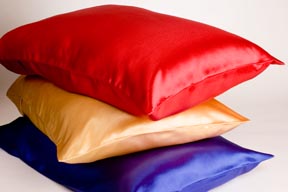 Designing a comfortable satin pillowcase was our first goal. We needed to have a product that was comfortable, easy to care for, durable and affordable.
Our design for the pillowcases went through several stages of development. A zippered edge was our first attempt, then buttoned ends and we even tried ribbon ties. Finally we found a style that was very easy to work with and maintain.
We design our satin pillowcase with a folded edge which allows your pillow ends to be covered and keeps your pillow inside the pillowcase. We use a highly durable crepe-back polyester satin fabric which makes the pillowcase durable yet smooth soft and luxurious to touch. Our Satin Pillowcases are exceptional. This design allows the pillow to be completely covered at both ends so the pillow does not slip out while sleeping. We wanted a product that our customers would enjoy for many years.
We hope you will enjoy all our products and you will share this comfort with your closest family and friends
Product Care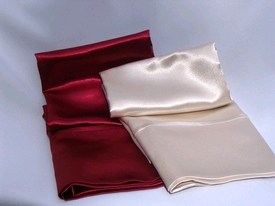 Our durable crepe-back satin products are easy to care for. This washable fabric can sustain numerous washings and requires little to no ironing.
Always wash your colors with similar colors in a regular wash, however a gentle wash cycle will prolong the life of the product. Always launder the pillowcase inside out to reduce snags on the silky side of your pillowcase.
Do not use bleach! At the end of the wash cycle, place in dryer and tumble dry. Remove immediately and slip on your pillow. The pillowcase should need little or no ironing. A warm iron may be needed to remove wrinkles if left in the dryer.
Enjoy many nights of heavenly comfort.
Together we fight wrinkles One Night At A Time.