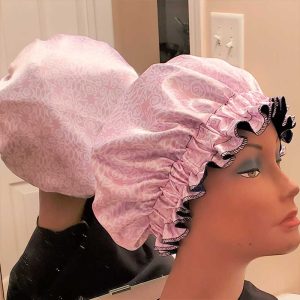 Satin Lined Sleep Cap
High quality satin sleep caps by Satin Creations give you sleep comfort while providing health and beauty benefits. Satin reduces hair loss, hair damage, and hair matting, while promoting smoother, softer skin.

When matched with our Satin Pillow Cases, they are more likely to remain on the head. However, having your satin pillowcase will guarantee that your hair will not be exposed to the dryness a cotton pillowcases causes.
Our satin sleep cap provides luxurious comfort, and is available in a variety of patterns. Our sleep caps are handmade in Canada and are machine washable and dryer safe. They will not shrink, fade, stain and are wrinkle resistant.
Use as a scrub cap! If you're a medical professional with more hair than fits under the standard scrub cap, this might be the solution for you.
not rated
$

30.00
Select options